Iyoda released Dual Match 3,
on July 3, 2018 on the Google Play Store,
on December 6, 2017 on the App Store.
Dual Match 3 is a simple match 3 puzzle game with a deep complex edge.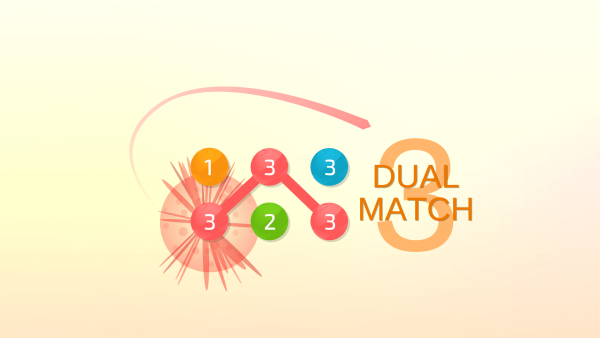 Please download presskit(screenshots, icon, logo, promotion art and press release document in a zip file [2.2MB]).
Description
Dual Match 3 is a match 3 puzzle game in which players try to get a high score by connecting 3 or more balls of the same color and number.
When 3 or more balls of the same color and number are connected, the points on the balls are multiplied by 10.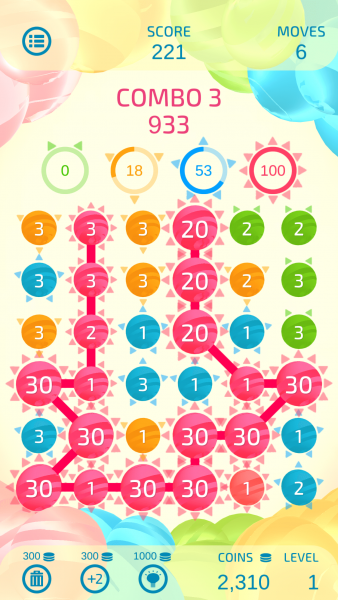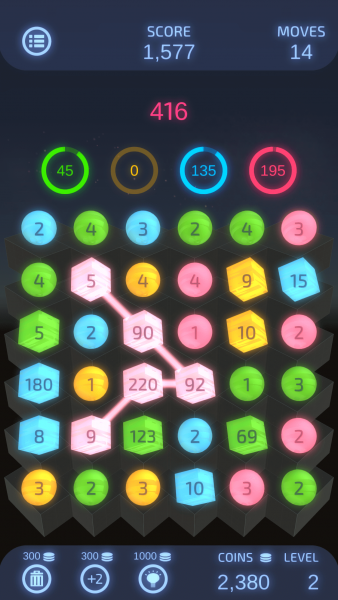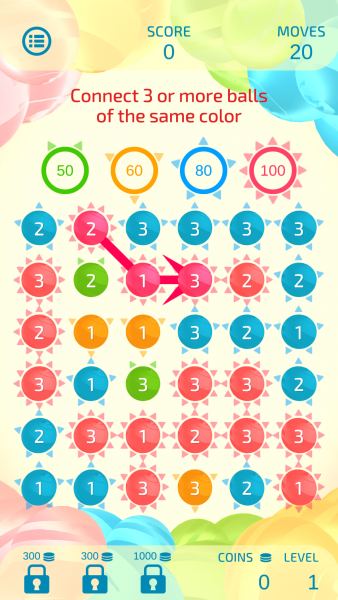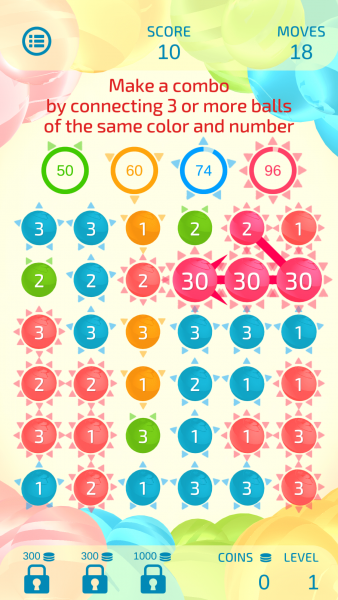 Players can boost their score by connecting multiple combos, in which case the combo points are multiplied by the number of combos hit so far (e.g. on the third combo, the points are multiplied by 3).
The player can connect balls freely: vertically, horizontally, or diagonally.
Although the rules are simple—just connect 3 or more balls of the same color and number—Dual Match 3 is unique in that scores vary greatly depending on the connection path.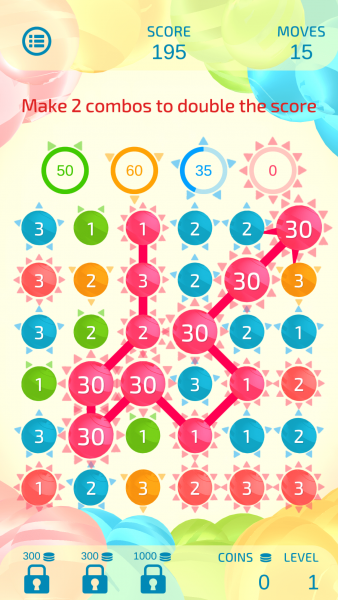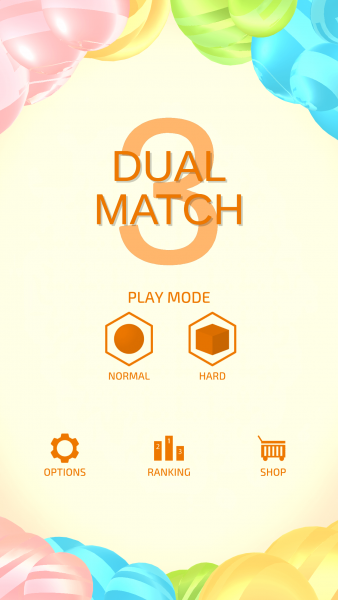 In Hard Mode, cubes containing the total number of points from connected balls appear in the position where the finger is removed.
When 3 or more cubes of the same color are connected, you win the points and the cubes are removed.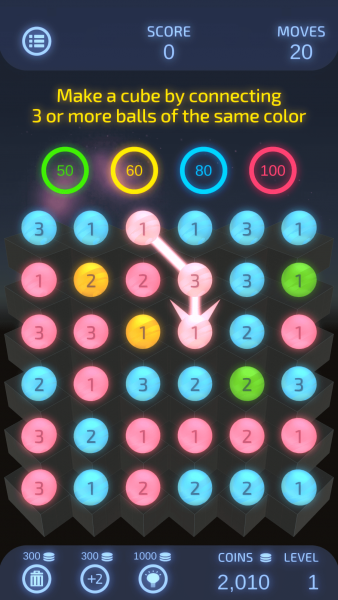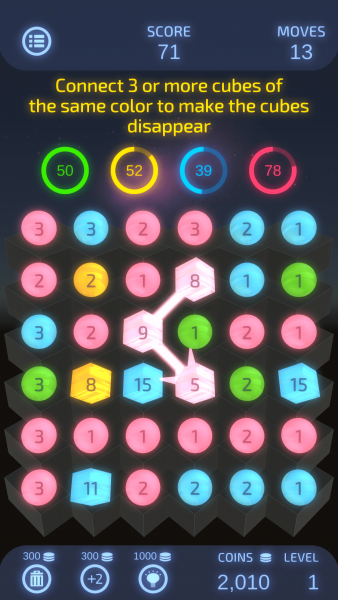 The level finishes when all color targets are cleared within the given number of moves.
When you level up, the remaining moves are added as a bonus, so you can boost your score by completing the level in fewer moves.
At the end of the game, players receive coins according to the number of levels completed. These coins can be exchanged for items during the game.
There are three items:
Item 1: Tap a ball to remove it
Item 2: Add two moves
Item 3: Display a hint (reveals a high-scoring path)
You can use items multiple times during a game, but the number of coins consumed doubles with each use.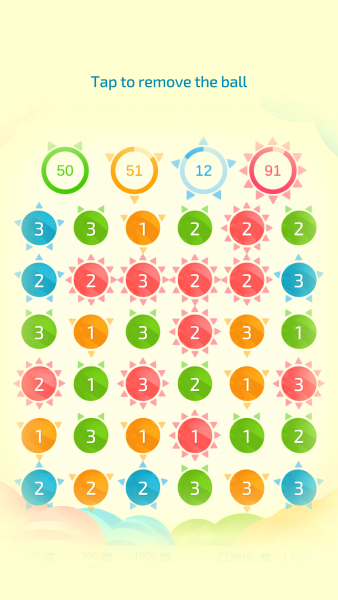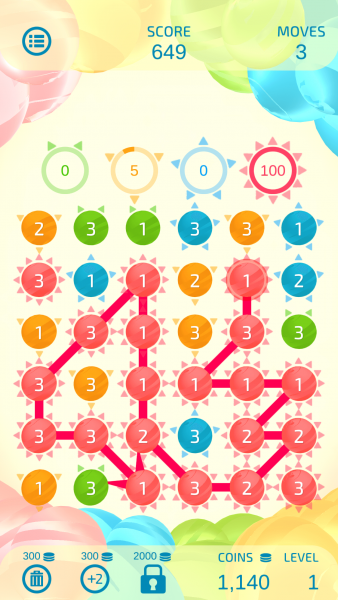 You can share in-game videos via SNS by pressing the record button during the game (using ReplayKit iOS only).
You can also post your game results or best move to SNS.
When you select a ball, it becomes hidden behind your finger, so the game uses haptic feedback to tell you when a ball is selected (iOS only).
People who cannot see differences in color can play using patterns with the "Colorblind" option.
There are three different color themes:
1. White
2. Dark blue
3. Gray
Dual Match 3 is Available in 12 languages.
English, Spanish, French, German, Italian, Portuguese, Russian, Simplified Chinese, Traditional Chinese, Japanese, Korean, Arabic
Dual Match 3 is free to play. Dual Match 3 is available worldwide from Google Play Store and Android 4.4 or later devices.
Dual Match 3 is free to play. Dual Match 3 is available worldwide from Apple's App Store and iOS (iOS 9 or later) devices.
Dual Match 3 is optimized for iPhone X.